Green Home / Green Village
EM Korea makes effort to build an eco-friendly world for the better future.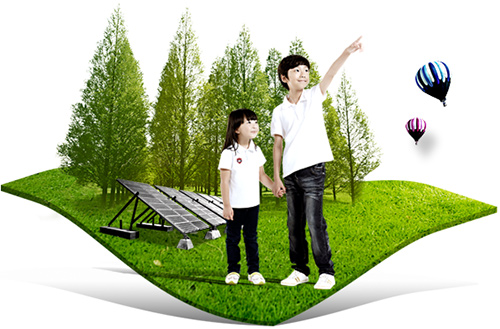 EM Korea will try to become a leading
green growth company in clean hydrogen
energy concerning the environment.
It is a group of hybrid green homes, The power left after consumed for housekeeping, originally generated from solar or wind, will be compressed and stored as form of hydrogen through water electrolysis system. The stored hydrogen can be transformed to electric power through fuel cell system when natural energy source is restricted, and the power will be supplied to house. In this way, the energy cycle will be endless.


Construction example of Hybrid Green Home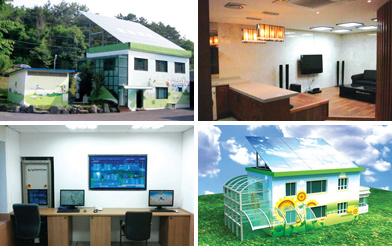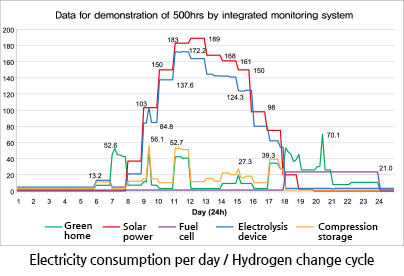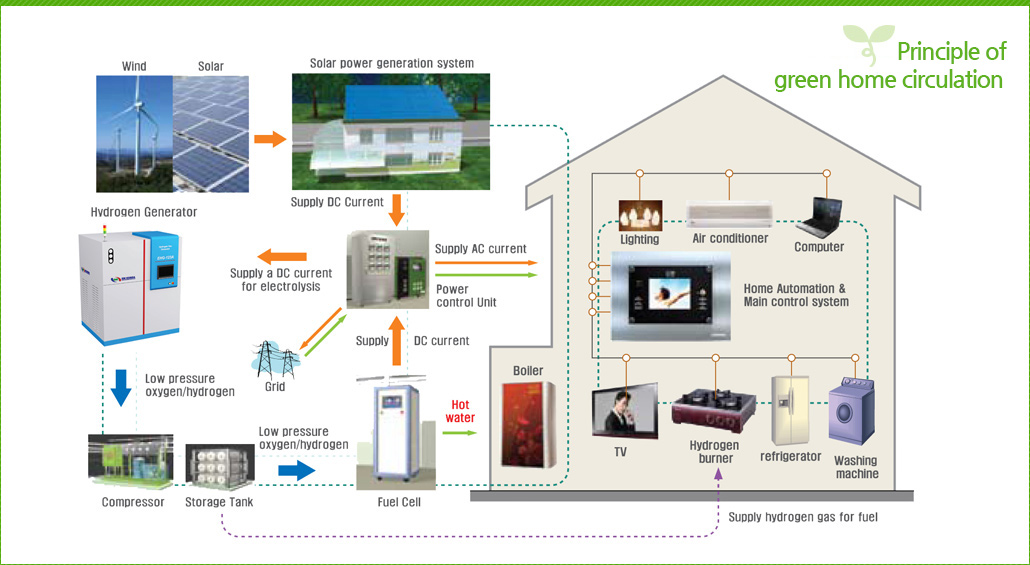 Existing Green village vs Hybrid Green village concept
Technical specifications
Division
Existing green village
Hybrid Green village
Energy sources
Guided to install one of the solar energy, solar heat, fuel cell, geothermal, or others
A vailable renewable energy sources are used complexly.
Applied technologies
Individual system technology
Realize complex and various technologies and passive technologies on them.
Main Components
Individual installation of solar energy - electric power/
solar heat - heating/
wind power - electric power/
geothermal - cooling and heating/
fuel cell - electric power, heating, etc.
The combined installation of the components described on the left.
Government support
Government supports are different case-by-case
Example : 75% for fuel cell and 50% for solar heat
Obtained overall support by centralized system
Suitable regions
Small scale (15-50 homes)
Medium and large scales (more than 100 homes) are available
Expenses
Reduced effects by the dispersed cost
Maximization of effect by the concentrated investment
Concept of Hybrid Green Village
Green village is a kind of Energy Independence (carbon free) Village, that is, only natural energy source such as solar, wind or geothermal will be used to keep the home. Energy consumption of the village is minimized by insulation, sun lighting, etc. technology with zero carbon emission.


Water is electrolyzed by the electricity obtained from the solar energy or wind power to produce hydrogen.
The hydrogen is then pressurized at the storage and the stored hydrogen is converted to electricity through a fuel cell.
The energy circulates from solar energy, electricity, hydrogen and then electricity.
This process has a concept that the energy can be used as a proper type at the proper timing.
Example of Green Village project in Korea
The green villages constructed with solar energy are in Buyeo-gun in Chungnam Province, Palyong-dong in Changwon City, and Shinhyocheon town.
Green village at Seokseoung-myeon,
Buyeo-gun, Chungnam

Green village at Paryong-dong,
Changwon-city, Gyeongnam

Green village at Sinhyocheon town
Example of Hybrid green village that EMK will construct