Aerospace
Through continuous technology development, we will lead localization of main components for aircraft.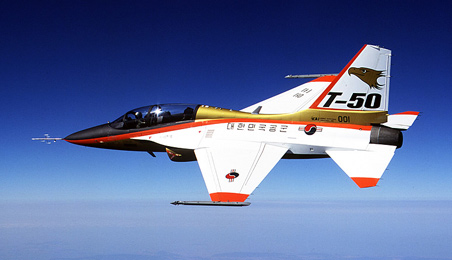 Technical expertise and trust
In the aviation components industry, EM Korea started to manufacture door actuator parts for T-50 in 2006, landing gear parts for A340/A380, and designed and manufactured hydraulic reservoir for T-50 in 2012.
T50 / TA50 / FA50
Hydraulic reservoir
EM Korea produces Hydraulic reservoir which is core part for Korean supersonic advanced trainer T-50. It secured technology that covers whole process from design, manufacturing, assembling and test. EM Korea delivered 16 sets of hydraulic reservoir for T-50 delivered to Indonesia recently

Work scope

Manufacturing completed
product by design itself
Development and initial delivery : 2012
Design concept

Bootstrap-type reservoir to offset hydraulic inside
of aircraft such as components and schematics
Displayed temperature range : -40˚F ~ +160˚F
Displayed flow rate range : 0% t0 100%
Equipped relief valve to protect reservoir against internal high pressure


EM KOREA

| | | |
| --- | --- | --- |
| | A Type | B Type |
| Size (Diameter x L, inch) | Φ10.5 x 15 | Φ10.5 x 23 |
| Weight (lbs) | max. 7.5 (7.937 kg) | max. 19.5 (8.845 kg) |
| Hydraulic volume(cu-in) | min. 370 (6.06ℓ) | min. 700 (11.47ℓ) |
Main features

The system supply pressure: 3,100 psig
Bootstrap pressure: 85 ± 5 psig
Hydraulic fluid: MIL-PRF-83282
Reliability test: 800,000 cycles
Main components

Material: 7075-T73 (weight loss)


Landing Gear Components
Since 2008 our first delivery, EM Korea manufactures and delivers Trailing Arm, Pivot Axle and 28 kinds of Cam A340/A380 landing gear components. Based on precision processing technology, EM Korea manufactures and assembles 54 kinds essential components for landing gear door actuator.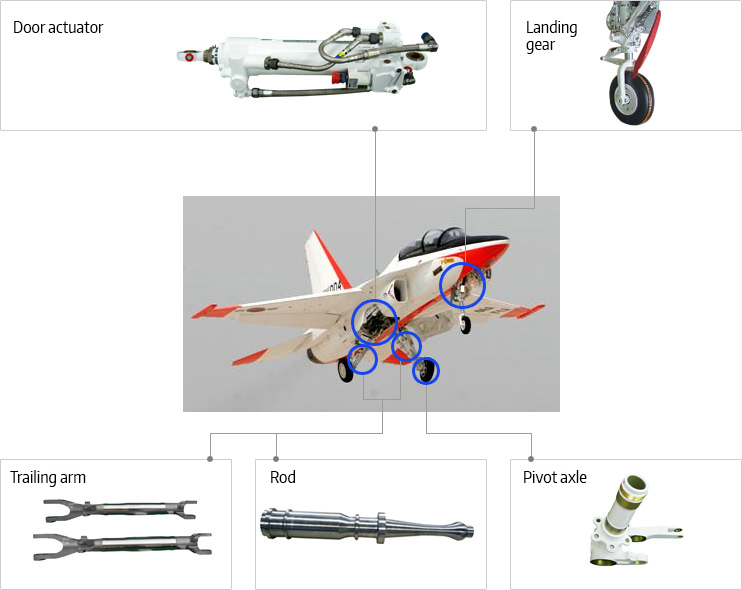 Landing gear parts

Machining main components for landing gear based on built-to-print
Development and initial delivery: 2008
39 Item per ship set


EM KOREA

| | | |
| --- | --- | --- |
| Project | Material | Size(mm) |
| T50/TA50/FA50 Landing gear | 300M (High strength steel 1950 Mpa↑) | 178*1344, 119*839, 324*332 |
Door actuator

Machining main components for landing gear door actuator based on built-to-print
Development and initial delivery : 2006
54 Item per ship set


EM KOREA

| | | |
| --- | --- | --- |
| Project | Material | Size(mm) |
| T50 L/G Door actuator | 4340, 7075-T73511, Z6CNU17-04 | 80*390 |
Ammunition system

EM KOREA

| | | |
| --- | --- | --- |
| Project | Material | Size(mm) |
| TA50 Ammunition box | 17-4PH, SAE4140, AMS5347 | 550*280 |
Korea Utility Helicopter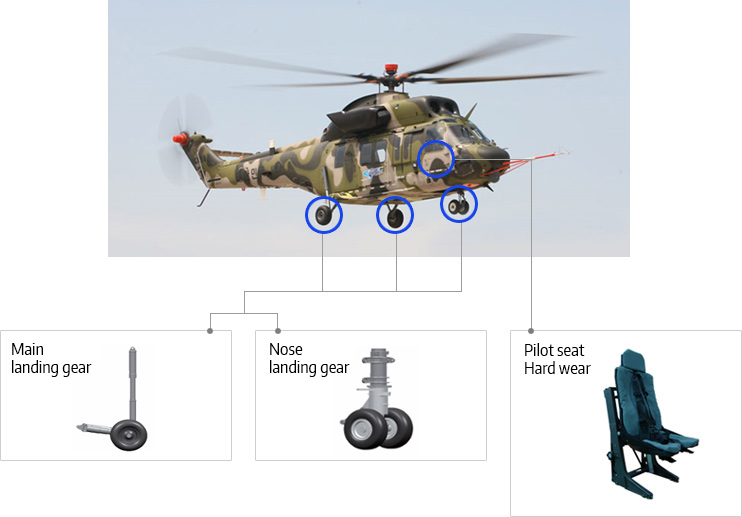 Landing gear parts

Machining main components for landing gear based on built-to-print
Development and initial delivery : 2008
53 Item per ship set


EM KOREA

| | | |
| --- | --- | --- |
| Project | Material | Size(mm) |
| Korea Utility Helicopter Landing gear | 300M AMS4340 AMS6419 | 97*200 |
Pilot seat – Hard wear

Machining main components for pilot sear based on built-to-print
Development and initial delivery : 2006
52 Item per ship set


EM KOREA

| | | |
| --- | --- | --- |
| Project | Material | Size(mm) |
| Korea Utility Helicopter Pilot seat hardware | 2024-T3, 7075-T7351, AlMgSi Alloy | 420*900 |
AIRBUS A340 / A380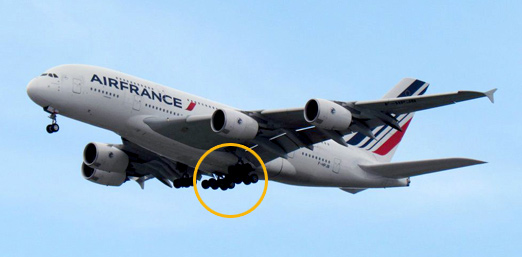 Landing gear parts

Machining main components for landing gear based on built-to-print
Development and initial delivery: 2008
A340 : 9 Item per ship set
A380 : 19 Item per ship set


EM KOREA

| | | |
| --- | --- | --- |
| Project | Material | Size(mm) |
| A340/A380 Landing gear | 4340 7175-T73 4340 7075-T73511 | 280*55, 172*934, 194*150, 279*744 |